Le Programme de la European Snow Pride 2015
---
Le programme des festivités de la European Snow Pride de Tignes du 21 au 28 Mars 2015 est en ligne sur le site officiel.
DJ Little Nemo est le résident officiel de la semaine, ainsi que le Responsable Événements.
☆ THE EUROPEAN SNOW PRIDE 2015 PROGRAMME IS ONLINE ☆ All details on: http://www.europeansnowpride.com/programme-event-pass.htm
DJ Little Nemo is the Event Manager of the week.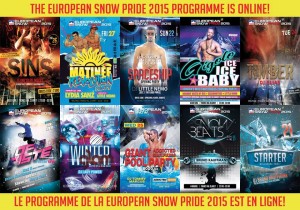 ---