Super Size Pool Party Paris – 10 AVRIL 2010
---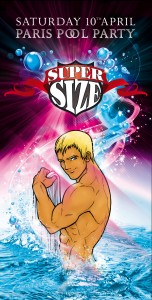 SUPER SIZE POOL PARTY
SATURDAY 10. APRIL – AQUABOULEVARD (PARIS)
The Biggest Clubbing Event In Paris. A night to remember with an exceptionnal program including clubbing, shows, water activities and swimming.
The Pool Party phenomenon is without a doubt the event of the year.
A unique party set up in a magical and exotic place… A one of a kind experience for one night with the best DJ's.
Clubbers from all around the world are expected to attend the event will be dancing the night away in summer clothing, in and on the most unusual dancefloor.
With this party, Michel Mau (Spirit Of Star) and Aurel Devil make their mark as the New Wave of clubbing in Europe.
DJs : Little Nemo, Aurel Devil, Kidd Madonny, Tommy Marcus
more infos, tickets, etc. : www.spiritofstar.com
---